Mission
Multi-footprint Observation LIDAR and Imager (MOLI) will observe forests in three dimensions as Japan's first laser forest observation mission. MOLI will be aboard the International Space Station (ISS) to enable observations over the entire globe.
Three-dimensional information on forests is one of the most important parameters for understanding the global environment, as it allows us to estimate the flow of carbon dioxide, which is necessary for predicting climate change, and the diversity of organisms living there. By observing them over the entire globe, we aim to contribute to global environmental issues.
In addition, the LIDAR can acquire topographic information (Digital Elevation Model; DEM) that cannot be observed by ordinary optical sensors, making it useful for acquiring and analyzing basic infrastructure data and for disaster prevention and mitigation such as heavy rainfall disasters.
LIDAR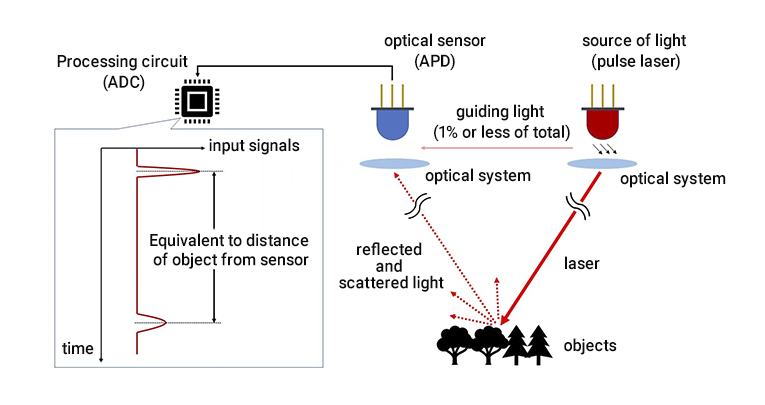 LIDAR is a surveying method that measures the distance to a target by illuminating the target with laser light (ultraviolet, visible, or near-infrared light).
In principle, a pulsed laser is sent to an object and the distance is measured by measuring the time it takes for the reflected and scattered light to reach the optical sensor when the laser strikes the object.
MOLI records the signal output from the optical sensor as a waveform over time, making it possible not only to measure the distance to an object, but also to separate different objects (tree or ground) and determine their three-dimensional structure from the waveform.